A BATH BOMB FOR YOUR SHOWER
Liquid error: product form must be given a product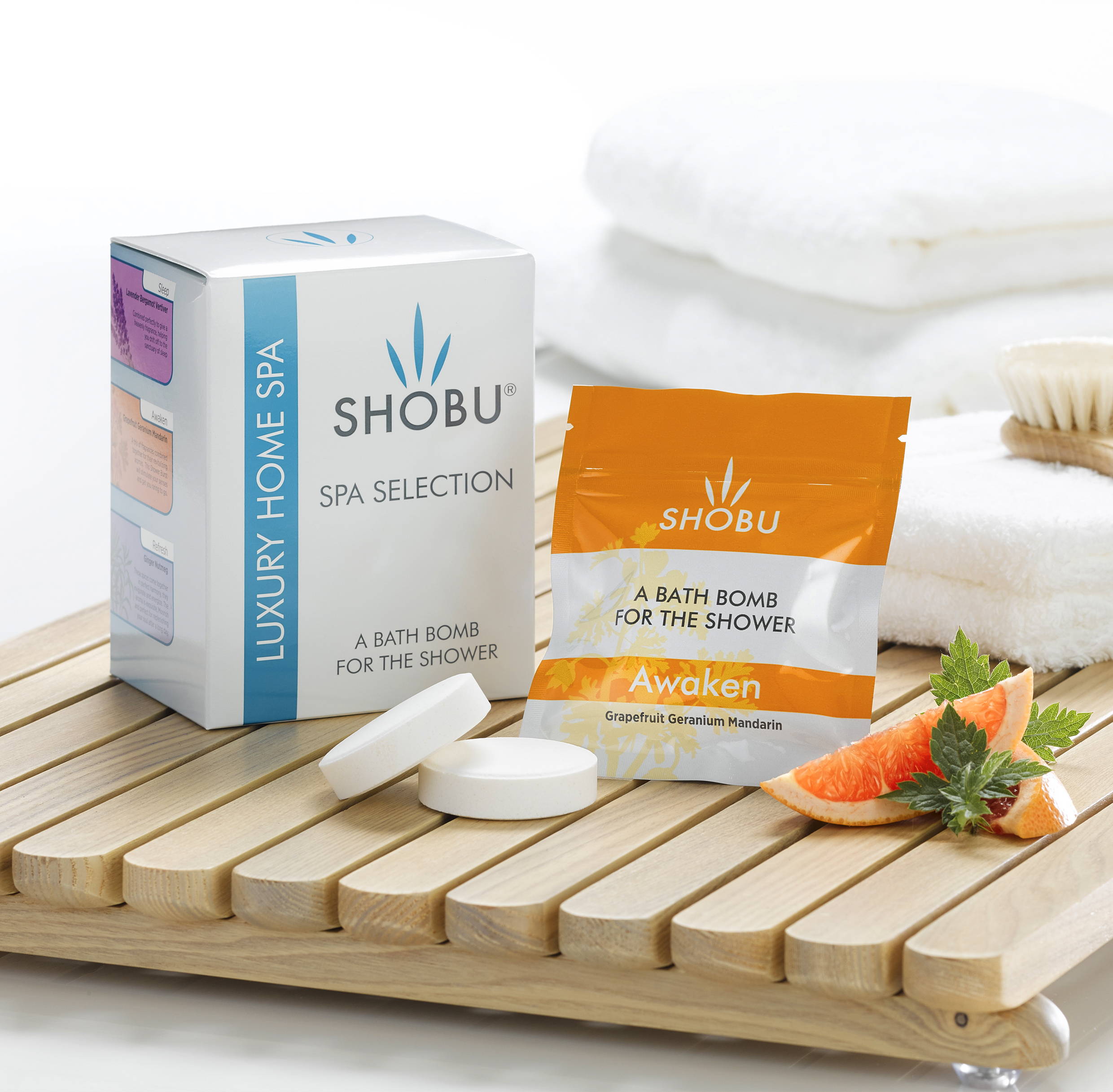 Don't have time for a bath? SHOBU Shower Bombs are designed to help you enjoy a luxury spa experience in your very own home. Each bomb is infused with a unique blend of essential oils, chosen for their aromatherapy benefits, to help transform your bathroom into a sanctuary of tranquility and wellbeing.
The SHOBU experience offers the relaxation and luxury of a spa treatment at home by harnessing the powerful benefits of aromatherapy in your shower. Each shower bomb gradually dissolves when splashed with water and steam, releasing a gorgeous aroma, to help you enjoy some therapeutic and much deserved me-time.
The steam from the shower is perfect for carrying the natural essential oils, and as you inhale them, they are absorbed into your blood stream, meaning you get the most out of the aromatherapy experience.
Packed with a carefully selected blend of natural essential oils, each blend has been specifically designed to meet your everyday needs, from helping you sleep to awakening your senses for the day ahead.

In this busy world it is so important that we allow ourselves some time to relax and unwind and this is what SHOBU is all about.
To get the best experience from the SHOBU experience, we suggest the following:
Use SHOBU before or after washing, so you can take a few moments to focus your full attention on the experience
Run a hot shower - the more steam is produced, the better it is for the aroma to be released

Choose your shower bomb and place it away from the direct water flow, but where it will come into contact with water splashing off you

Close your eyes, let your mind and body be at rest and take some deep breaths whilst you enjoy the warmth of the water and the natural aroma that is surrounding you.

As you take some time out, the tablet will slowly dissolve and the essential oil blend will be released into the steam where you will inhale it.

As a guide, we would suggest your SHOBU experience lasts between 5-10 minutes.

After you have finished, pop your SHOBU tablet back into the resealable packet ready for your next experience.
Liquid error: product form must be given a product
The spa selection box contains one of each of the six blends. Scroll through below to read more about each one.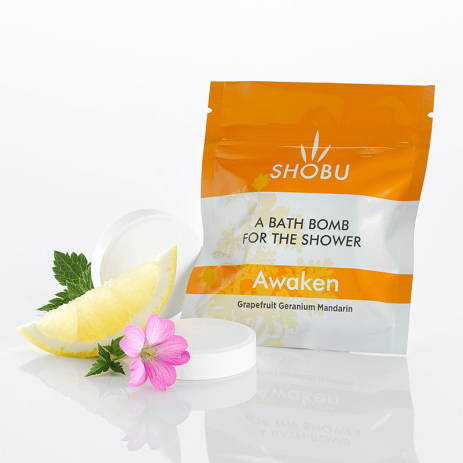 An uplifting blend of Grapefruit, Geranium and Mandarin are have been carefully chose to help enliven the senses.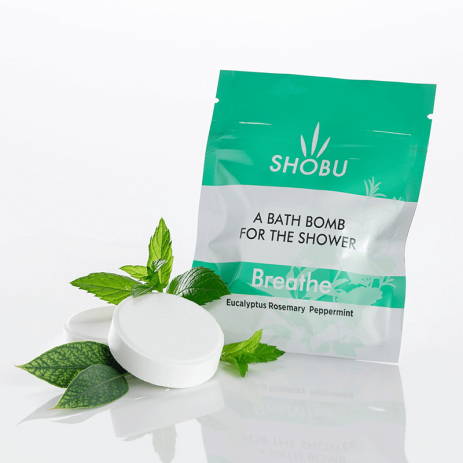 An invigorating combination of Eucalyptus, Rosemary and Peppermint is perfect for those stuffy nose days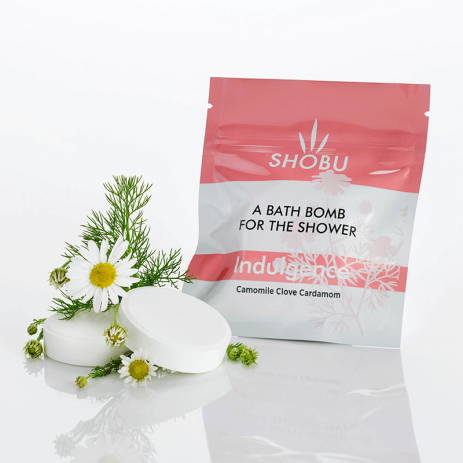 Let the comforting blend of Cardamon, Clove and Camomile help bring the indulgent spa feeling into your home.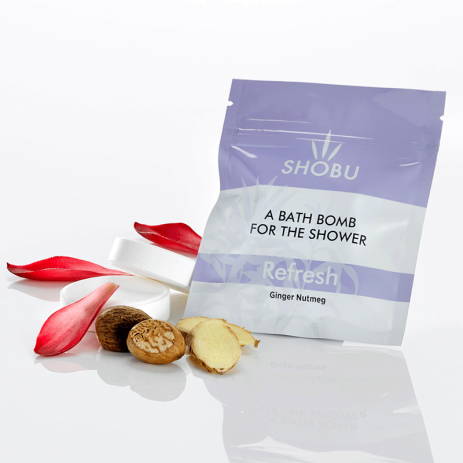 Perfect to re-energise at the end of a long day, the blend of ginger and nutmeg combine to reinvigorate your senses.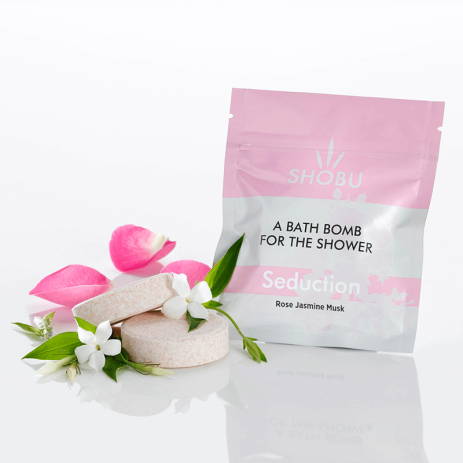 Arouse and awaken your senses with a lovingly made blend of Rose, Jasmine & Musk.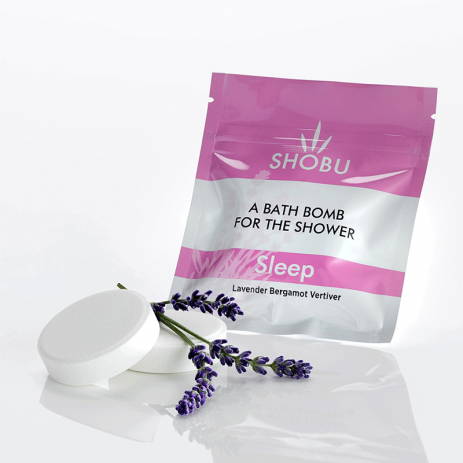 Drift off into the tranquility of a nourishing night's sleep with a heavenly mixture of Lavender, Bergamot and Vetiver.

Here's just a small selection of the glowing feedback we've received from customers who have bought SHOBU Shower Bombs:





Liquid error: product form must be given a product
We've put together a list of frequently asked questions that we have been asked by others.
If you have a question that has not been answered, feel free to contact us and we will be happy to help you!
Can I buy the shower bombs individually?
How long does one shower bomb last?
Each shower bomb will last for 8 - 10 minutes. The recommended use is at the start or end of your shower, for five minutes or so. You can then pop the remainder of the shower bomb back into it's resealable packet.
Where are SHOBU Shower Bombs made?
SHOBU Shower Bombs are lovingly made in England, designed and created by two busy mums, Leanne and Shelley, who were looking to find a way to enjoy some more me-time.
Are they natural, cruelty-free and vegan-friendly?
All the Ingredients and products that go into a SHOBU experience are ethicallyand sustainably sourced, are vegan friendly, are not tested on animalsand are suitable for all skin types.
The full ingredients for each bomb are listed on the individual product pages. Click here for more information.
Do they contain palm oil?
No, there is no palm oil used in shower bombs.
Does the packaging contain plastic?
At the moment, the packaging does contain a small amount of plastic. This is to ensure that each tablet is sealed to stop the essential oils contained within the tablet from dissipating, and keeps them at their best.
Can they be used in a wet room?
Yes, the shower bombs can be used in a shower cubicle, 'over the bath' shower or in a wet room.
Do they make the shower slippery or require cleaning up?
No, they dissolve in the water gradually and don't make the shower slippery or leave a messy residue.
Do I put the shower bomb in the shower head itself?
No, just simply put it on a shelf or on the floor of the shower out of direct water flow, to stop it from dissolving too quickly.
Do they just make a nice smell?
A freshly-baked loaf of bread smells nice. A candle smells nice. SHOBU smells very nice!
However - there is much more to the SHOBU experience than just a nice smell. The aroma contains all the therapeutic benefits of aromatherapy from the carefully selected blend of essential oils. It also encourages you to take some important 'me time' and refresh your mind and body. The smell is an added bonus!
Doesn't my shower gel do this?
Your shower gel will undoubtedly smell nice - that's part of the design. However, its main function is to clean dirt off your body.
The SHOBU experience is very different. Take a look at the other answers above for more information.